Please send us print ready artwork!
Print Ready Artwork Requirement:
– Artwork to be supplied as a PDF file.
– Artwork to be set up as CMYK or Pantone color mode.
– All the text must be outlined/converted to path.
– All images and elements must be embedded. No trim, crop or registration marks.
– Artwork to be supplied at 100%, 50%, 25% or 10%. The correct proportion is important.
– Photographic images should be supplied at 150dpi or better resolution.
*The details of the artwork requirement for each product can be viewed under the Artwork & Set-up section in the product page
Send Artwork:
– Email to [email protected] if size is less than 20MB.
– For large artwork, use free service of www.wetransfer.com, www.hightail.com,
or any other website to upload file and send us the download link.
(with clear reference of your order/invoice number)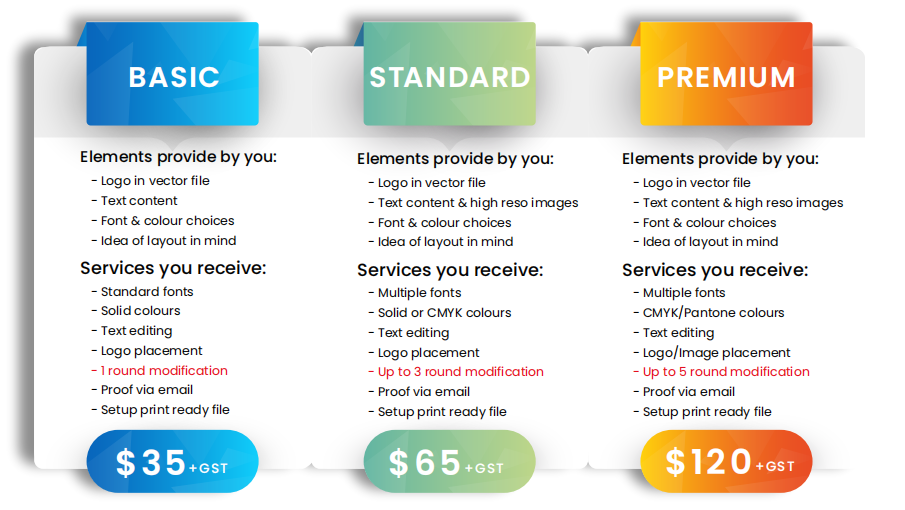 Logo Design Price List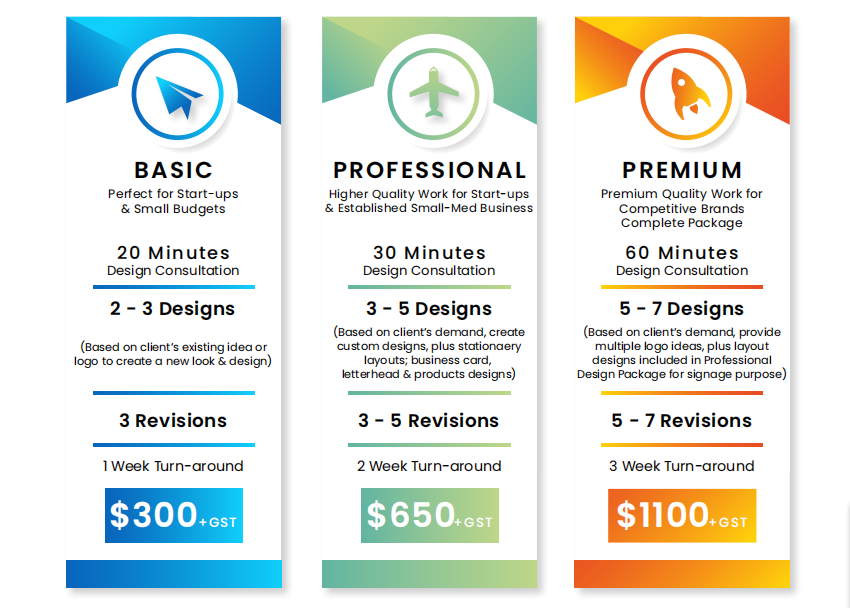 *Logo packages include the original vector source file created in Adobe Illustrator (AI), a PDF that's also vector, as well as JPEGs and/or PNGs that can be placed in Word Docs, emails, website listings, etc..
They will come in 3 folders: CMYK (for print), RGB (for web or TV), and a black/white version for single colour printing on specialty items. The original vector file can be modified and enlarged to any size (without losing quality) for different uses. All the other formats can be created from it.
Print Readiness. No charges are incurred if artwork files are supplied in acceptable print ready format. Please refer to our Artwork Specs to ensure your file format is correct.
Licensing. It is the responsibility of the client to obtain all necessary rights and licences required to reproduce logos or artwork not created by Bigbanner.
Loss of Artwork. All artwork provided to us must be a copy of your original. We accept no responsibility for the loss of original artwork files provided to us.
Charges. Our experienced design department is happy to assist you with the setup and/or design of your product. Fees for this service are charged as per above. or at a fixed or hourly rate depending on the project. This information will be specified on your quote.
Proofing. When proofing artwork electronically colours seen onscreen should not be considered a 100% accurate representation of the final printed product. Bigbanner does not offer colour matching service, unless client provides physical colour.
Artwork Variations. Your signed acceptance of the quotation is based on the understanding that variations to the finalised artwork proof will incur additional costs. These costs will be based upon the quantity and complexity of the changes.
Copyright ©. Any proof provided to a client remains the property of BigBanner Australia. Digital or physical reproduction of said artwork without written permission (for purposes other than proofing) is not permitted and is an infringement of copyright law. All original artwork, designs and layouts are owned by BigBanner Australia.